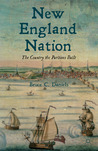 My rating: 4 of 5 stars
Ever wonder why America always has to "save the world"? Why the town meeting style of government has survived on the local level for 300 years? Why Americans are so intent upon personal independence? Why higher education is so important to us? And what about due process of law?
While world views and social standards have changed drastically since Plymouth was settled, our core values, those that show up time and again in protests, demonstrations, and speeches have remained the same. Historian Bruce Daniels explains how this came to be in his 232 page narrative, a witty, fluent explanation of how the Puritans thought and why they behaved as they did, for good or bad. It's not always a flattering picture, but it is a comprehensible one. Worth checking out for any reader of American history and sociology.