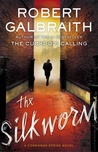 My rating: 4 of 5 stars
Cormoran Strike is a most interesting PI. A former investigator for the Royal Military, he lost a leg in Afghanistan and has now set up shop on his own. He's tough, certainly, but also fair-minded and personable. He's also the illegitimate son of a famous rock star. His newest case has been brought to his door by the wife of a pretentious but un-prolific author, Owen Quine, who's disappeared after the rejection of his much anticipated new manuscript, Bombyx Mori , which translates to Silkworm. Strike is not at all sure that Mrs. Quine can pay, but he accepts the case anyway, and soon finds out that there are plenty of people in the world of publishing who might harbor animosity toward the writer. Bombyx, it seems, is a sort of pornographic allegory in which they all all appear as nasty caricatures of themselves.
The Silkworm is a mystery with literary features, the title itself a metaphor for the rat race of writing and publishing. Cormoran is the name of the giant that the famous Jack killed at St. Michael's Mount in Cornwall. It takes a long time for Strike to discover what happened to Quine, and when he does, life mimics fiction in a very effective fashion. He receives indispensable insights and assistance from his office manager, Robin, who is a PI wanna be who clearly has the right stuff, if only Strike would realize it. Robin's engagement to the selfish, narrow minded Matthew, serves as a subplot, and leads to speculation about whether Robin and Strike will follow up on the attraction they feel but do not openly acknowledge.
The Silkworm is a suspenseful and engaging, and I read it without knowing that it's author is actually J. K. Rowling. I'm able, therefore, to review it objectively, and am prompted now to read the prequel, The Cuckoo's Calling. Rowling clearly did not use up her story-telling abilities on Harry Potter, and she can write for adults quite well.
4 stars because of a bit of a lag in the middle.